Written by Bente Pieters
Desktop monitors become digital signage
Does that mean digital signage is a thing of the past?
Nope. Digital signage is still working its magic for non-desk workers and will continue to do so for office employees when office locations (partly) reopen. As for your WFH employees, you can bring the exact same digital signage presentations directly into their work from home offices with Netpresenter. Or you can tailor separate presentations for your remote workers and your office or, for example, factory locations. Possibilities are endless!
The difference with traditional digital signage: it will not be large TV screens that show your presentations. Instead, you can publish your digital signage content directly to hundreds or even thousands of employees' desktop monitors or laptops, without interrupting your staff from doing their jobs. The underlying technology is the same and it works on every Windows laptop, so you won't need any additional hardware.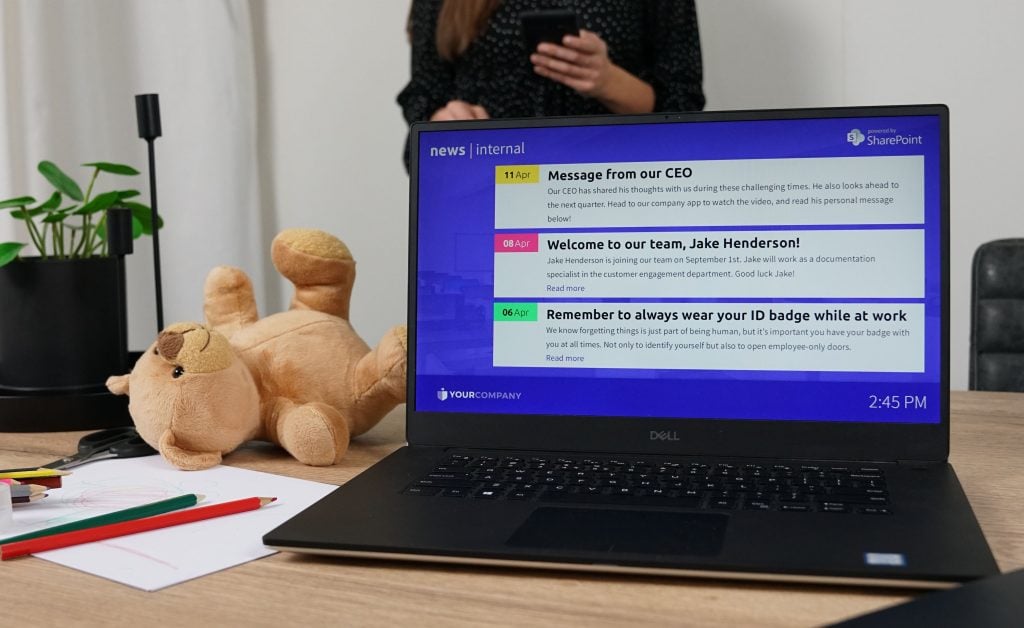 Bring digital signage directly to your employees
And the best part: you can now reach every employee, wherever they are. Working from home, at the shop floor, in the factory hall, at the office … you name it, digital signage will reach your employees – through big or small(er) screens. You can publish your digital signage presentations for your office locations from the same content management system as your digital signage for remote workers. Even send targeted content to individual screens; centrally manage one screen or thousands, remotely, and even globally with just a few clicks. No need to put in extra work.
Sounds cool and incredibly handy–but how do you reach your employees through their laptops without interrupting them, when they are using those same laptops to do their jobs? The answer's simple: you turn screens into dynamic digital billboards once they go idle.
Idle screens are informative screens
When your employee walks to the door to accept a parcel, their screensaver turns into a digital signage screen. When they are helping their kids do their schoolwork for a minute or five, their lock screen shows the latest news. Or when they just walk to the kitchen for a cup of coffee, their idle screen shows intranet headlines directly from SharePoint upon their return. This allows digital signage in your employees' homes to be equally non-intrusive and non-disruptive as traditional digital signage. It keeps your employees in the loop, without intruding or adding to email-overload.
This means, you can use digital signage for remote workers like you would use digital signage in your office. It allows you to publish internal news as well as corporate news, and supports you in keeping your colleagues motivated and engaged.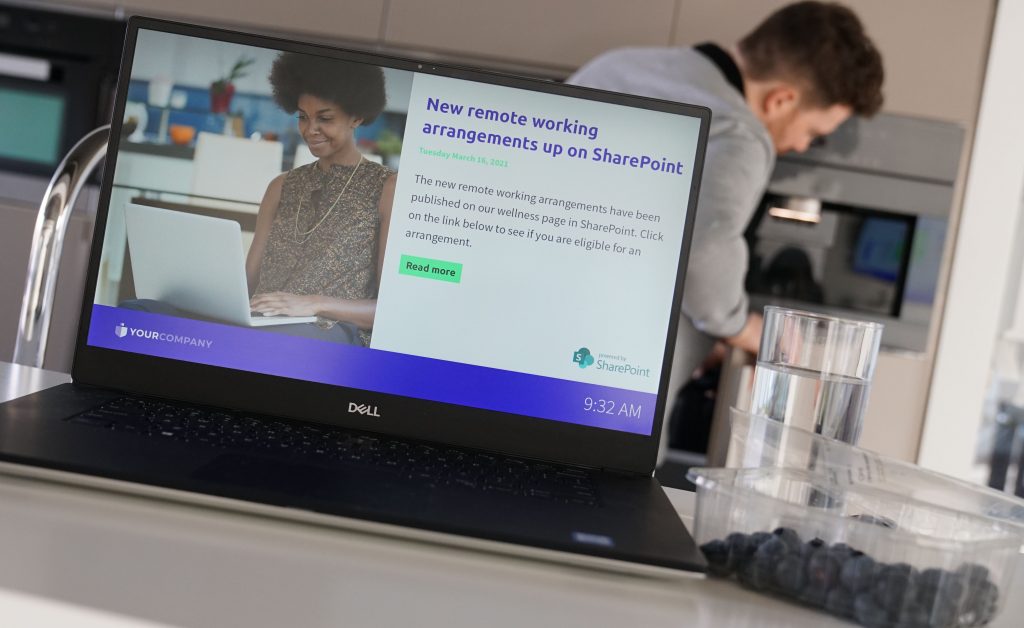 Integrate and import
It also offers integrations with SharePoint or Power Bi, to promote headlines or data that employees may have trouble finding or navigating to. But with an added button, clicking through to the original message on, for example, SharePoint has become so easy, your employees will never miss a beat again. Digital signage for remote workers even enables you to show dynamic content such as highlights of trending posts from your Microsoft Teams channels. It proactively brings important information literally to wherever your employees are doing their job; serving bite-sized chunks of information on a platter, so your employees don't have to put in the effort of finding information themselves.
The perfect match
So, don't be confused. We still love digital signage. But with a hybrid of office, WFH, and maybe even additional locations, the digital signage screens that have always kept your staff informed will not be enough anymore to keep everyone up-to-date now and in the future. You will need the combination of large digital signage screens and digital signage for remote workers. It's the perfect match to reach all your employees with internal communications!
Are you still looking for more reasons to start with digital signage (at home)? Download our infographic to find out why digital signage actually works!