The communication
platform that drives
organisational change
Employees informed, engaged, productive and safe!
The communication
platform that drives
organisational change
Employees informed,
engaged, productive
and safe!
Omnichannel

platform with powerful tools
Keeping employees informed, engaged, productive, and safe requires the right mix of communication tools. Our omnichannel platform consists of all the tools for your organization to effectively reach everyone; anywhere, anytime!
Explore the powerful
features

of Netpresenter
Netpresenter has a lot to offer, and we are always developing new useful features to make our platform even better. Below is an overview of our most popular features that help you keep your employees informed, engaged, productive, and safe.
Targeting
It has never been easier to effectively reach employees, no matter where they are. With our targeting feature, you can send personalized content to specific groups; for example, departments, locations, or offices worldwide. Make the content relevant for your audience and ensure everybody is on the same page, in or outside the office. Even send targeted content to individual screens; centrally manage 1 screen or 1000s, remotely, and globally with just a few clicks.
Discover how Netpresenter works
Sending out a message with Netpresenter is almost as easy as sending an email or riding a bike. In just five simple steps, you're able to reach everyone in your organization. See below how our communication platform works:
Choose Audience
First, start by selecting a (target) audience for the message you will be creating. With Netpresenter, you can easily target your messages to specific groups (e.g., departments, locations, or offices worldwide) or send a message to everyone at once. By defining separate channels with specific content, you can make your content much more relevant for your organization's different audiences.
Select Template
Then, select a template from our template gallery. We provide you with dozens of visually appealing templates to choose from, all branded with your own corporate identity. Thanks to these templates, your messages look equally sleek on every screen, whether you display it via digital signage on large public displays, via screensavers on desktops and laptops, or in the app on mobile devices.
Have a look at our awesome templates
Create Content
Now it's time to start creating the content you want to publish. Enter a punchy title and an engaging message to grab the attention of your audience. You can also add one or more media objects to make your message more appealing; this can be an image, GIF (yes, we love these, too!), or a video. It's even possible to embed a video directly from YouTube.
Crown yourself 'King of Content'
Enable Options
It is now possible to enable some additional options that empower your message. You can set a specific time frame in which your message must be displayed or add a hyperlink to guide people to further information. You can also enable notifications to increase your messages' visibility. Select one or more notifications, such as desktop pop-up or Windows notification for maximum exposure.
Explore our notifications options
Publish Omnichannel
You're almost done. Finally, publish your message omnichannel on every screen within your organization; PC, TV, and mobile devices. It's even possible to publish your message directly to Microsoft Teams. Mix and match any of these powerful communication tools to reach your employees, wherever they are, and ensure your message is seen by all!
Statistics
Measurement matters. Gather valuable feedback on how your messages are performing. Have precise insights at your fingertips and measure the reach and impact of your employee communications with our statistics feature. See key statistics at a glance, such as reach, connectivity details, and click-through rate. Also, find out what content your employees appreciate. Track user engagement and discover helpful details such as reads, clicks, likes, and comments.
Measurement matters: Create the right Corporate Content with Netpresenter's Statistics feature!
Is your corporate content engaging enough? Are your messages reaching the right public? Is your website equipped with the right tools to measure campaigns or track leads? Start measuring now! Our new hot Statistics feature is finally here to help you! See how your messages are performing in just a glance.
Measurements matters
Collect relevant data to gain insight into the performance of your corporate content. Your statistics dashboard won't only show you the reach and impact of your messages, it also gives you accurate information about the number of devices, the type of devices your message was shown on and the CTR, Click Through Ratio. But, there's more! It also tells you the exact number of devices that are, or were, connected, how many of your messages are active and the number of published messages. This way, you can create a content strategy that works for your organization or optimize what you're already doing!
LIKE what you see?
Getting enthusiastic yet? Be prepared, because we've got more for you in store! With our new feature, you can also discover if your messages are being appreciated by your employees. See how engaged they are and enable them to click, like and comment on your messages. This way, you can figure out which message performed best and adjust messages to use Netpresenter to its fullest.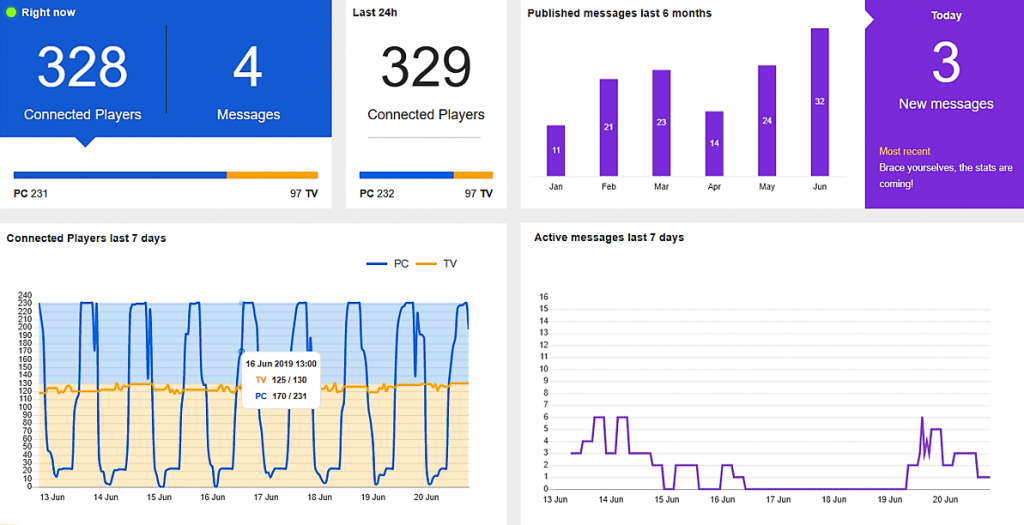 Maintain to measure
Once you start collecting data, make sure you maintain it. Consistently measuring your messages and website, will enable you to determine what's working and how you're performing compared to your competition. Regularly analysing your content, how your website ranks and what your competitors are doing, will ensure you of a content strategy that fits perfectly to your organization.
More exciting new features
Besides the statistics feature, the improved Message Server got upgraded with some other fantastic features as well. For example, you're now able to enrich your messages with GIFs and let your notifications stand out even more by publishing them as a pop up or push message on every connected screen. Therefore, we added some extra options to the Message History. We also improved the Media Gallery, Template Gallery and Colour Themes. For all the exiting new features, download our Release Notes.
So, what are you waiting for? Start measuring today! The update is completely free of charge with a valid support contract. In need of more information or support? Contact us or ask for a free demo. We're happy to help!
Notifications
Give your messages an extra push with our notification feature. You choose on which devices you want a notification to appear. It is just a matter of checking the box, and *Ping!* your messages now appear as a push notification on everyone's mobile device. You can also send out your message as a pop-up on every computer in case of urgent situations or use Windows notifications to be sure no one misses your message!


*Ping!* This is how you grab attention with Netpresenter notifications
Push notifications are hard to ignore. When they pop into view, they immediately grab your attention. Because of their speed and appeal, push notifications have become increasingly popular and are used in many different ways. Just think of a new WhatsApp message, breaking news updates from popular news websites, or the latest offers from your favourite fast-food restaurant. They are an ideal way to bypass everyone's overflowing e-mail box. Yet, the value of push notifications for internal communication is often overlooked! In this blog, we'll tell you how you regain your employees' attention by using notifications.
You are probably familiar with push notifications on your smartphone. You can find them in the notification menu, as well as on the lock screen. There's basically no way to escape them. Ever since the introduction of Windows 10, push notifications also appear more often on PCs, making them part of our working hours as well.
Push notifications on PC
Outlook has been showing messages for incoming new e-mails for years, but in the current version of Windows, most push notifications from Outlook, To Do apps, and many more, appear in the Action Center: a separate screen accessible by clicking on the small speech cloud sitting at the far right side of the taskbar. This icon also shows how many unread notifications you have. As it is with messages on your smartphone, even missed messages remain visible and hard to ignore.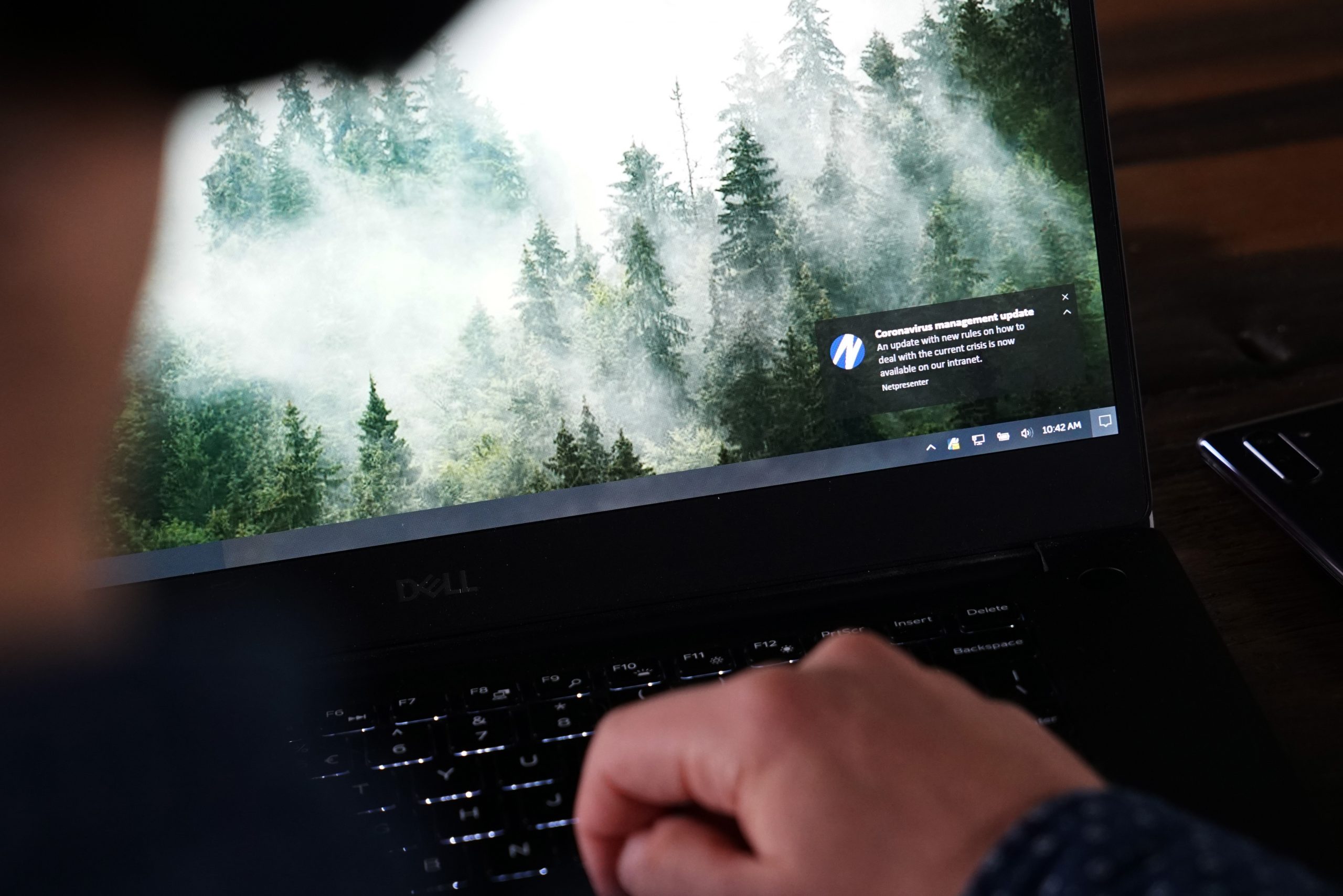 Collaboration applications such as Slack and Microsoft Teams already thrive on push notifications: with an '@', you immediately send someone a push message and thus directly draw that person's attention, no matter what they are doing. It's incredibly convenient when people work from home or are on the road a lot, and when you desperately need to share something or need information from someone.
Inform without disturbing
This ability to attract attention under all circumstances is excellent, but it is also a weakness. Push notifications pop up, a screen turns on, a sound plays: as a receiver, you know: this is something that requires your attention. If used excessively or unnecessarily, push notifications are quickly considered a nuisance.
You don't want to disturb your colleagues during their work. Unnecessary push notifications are annoying for them, and you even risk that they will disable or block later notifications. You should try to avoid that!
It is recommended to carefully consider whether your message is worth a push notification and reserve them for only special occasions. To avoid arbitrariness, you might want to create a checklist for all content managers that specifies conditions that a message must meet to qualify for a push message.
First ask yourself: is your message really that crucial for all recipients? Only if your information is indeed important enough that colleagues might have to interrupt their work, a push message is justified. For example, a notification from IT when there's downtime on any of the systems, or a corporate notification if new measures to control the spread of coronavirus are enacted immediately.

How to send push notifications with Netpresenter
In actual emergencies, it is still recommended to use the Netpresenter Alert Server to send out an alert message quickly. The Alert Server contains pre-made alert scenarios for potential calamities, such as fire, minimizing the time it will cost you to send out potentially life-saving notifications. When you want to create a push notification for any 'normal' messages, you can just use the Message Server. It is very easy and will hardly cost you any work.
Just create a message like you are used to. Choose a template, add a photo or video, and write your message. Next, click on 'Notifications' on the right side of the screen. You now get a pop-up with three options: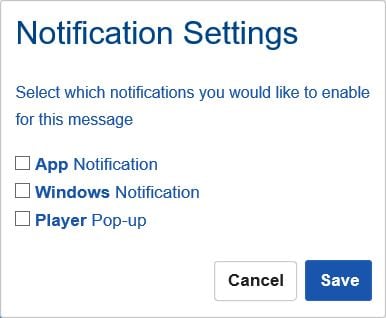 App Notification: If you check this option, your message will immediately appear as a push message on every smartphone with the Netpresenter App installed. The message will also remain visible on lock screens and in the notification centre.
Windows Notification: With this option, your message will appear as a push message on every desktop and laptop on which the Netpresenter Player is installed. The message appears in the bottom right corner and then remains visible in the Windows Action Center.
Player Pop-up: Your message now appears as a pop-up on all desktops and laptops with the Netpresenter Player. While technically not a push notification, it is still a powerful option to draw extra attention to your message.
You choose on which devices you want a push notification to appear. It is also possible to send a push notification to all devices to generate maximum attention. Ready? Ping! Your message now appears as a push notification on everyone's smartphones and all workstations in your organization. You can be sure no one misses your urgent message!
Would you like to know how to use push notifications within your organization best? Ask our consultants for advice. Whether you are an existing Netpresenter user or not, our consultants will be happy to provide you with tailored advice!
Branding
We're sure we love your beautiful corporate identity too! So let's definitely use it. Netpresenter respects your branding and enables you therefore to add your own logo, color palette, and fonts. It is your own corporate communication channel, so let's make it look that way too. Thanks to our templates, your messages look equally sleek on every screen, whether you display them via digital signage on large public displays, via screensavers on workstations, or in the app on mobile devices.
Our
integrations

make your work easier
Connect Netpresenter with the tools you already use to automatically display and share existing content. Prevent double entry to save costly time and bring relevant content to your employees to keep everyone informed about the latest and greatest.
Databases
Netpresenter is compatible with popular databases like MySQL and Microsoft SQL, resulting in low cost, low bandwidth usage, and making it easy to roll-out.
API Integration
Netpresenter easily connects with other platforms using their (REST) API. Our platform supports exchanging data in JSON and XML format. Common Alerting Protocol (CAP) enables you to connect to your building's existing alarm system.
Optional Features | Value-adding Addons
Talk2Us complements the Netpresenter App with the following value-adding features
Why #datafree?
By removing the data cost barrier, mobile users are more engaged, and this extends your reach to broader mobile audiences.
Reverse billed mobile data applies the concept of toll-free numbers to mobile data.
Mobile users incur no data cost when accessing #datafree websites and apps.
Enterprises pay aggregate data usage costs for mobile user access to their specific digital services.
Mobile users need no airtime or data balance on their SIM card for #datafree to work.
How #datafree works
We have reverse-billed data agreements with mobile network operators (MNOs) and the #datafree Platform online dashboard provides a range of product options and single point of implementation to direct mobile user traffic through the #datafree Gateway.
We forward mobile internet traffic to customers' internet servers and websites.
All mobile traffic passing through the #datafree gateway is reverse billed by the MNOs.
We aggregate a customer's data usage across all MNOs into a single bill to the customer.
Cast
Broadcast your content quickly and simply. Cast converts a live video stream so it can be accessed #datafree in any browser. Whether it is a single or multi-stream broadcast, our solution combines #datafree streams with paid-for streams targeting different audiences. Whether you are organising an event or leading an educational stream, you can rest assured that your entire audience can connect and enjoy, #datafree. Our team will work your requirements to take care of the technical implementation so that you can focus on streaming great #datafree content.
Standard Usage Reports
Accessed via your Customer Login to the #datafree Publisher Portal.
A number of standard reports are available to you covering:
Data and engagement today (UTC) - in graph or tabular form updated hourly
Last 28 Days (with Users) - in graph or tabular form updated daily
Data Usage by Calendar Month - in graph or tabular form updated daily
Monthly Summary - in tabular form updated daily